ABOUT DAPHACO
DAPHACO ELECTRIC CABLE CORPORATION 
Head office: 15/15, Phan Van Hon St, Area 5, Tan Thoi Nhat Ward, District 12, Ho Chi Minh City.
Telephone:  028. 3719 1177
Fax: 028. 3719 1178
Email: dapha@daphaco.com.
Website: www.daphaco.com. 
DAPHACO ELECTRIC CABLE CORPORATION was established in 1999, producing electric cables for domestic market and export. Over the past years, continuously have grown rapidly and become one of the leading professional manufacturers in Vietnam for power cables branded DAPHACO and LION. Currently, DAPHACO has continued to expand its business activities with a nationwide distribution network of over 200 agents. 
Since its inception, DAPHACO has always taken business ethics as the foundation, taking sustainable community development as a orientation, sharing responsibility and rights as a goal. DAPHACO uses the prestige of the Enterprise and the Quality of products to build its brand. With the commitment of product DAPHACO and LION copper cable are made from 100% pure copper.
The most difference of DAPHACO is that each coil is a continued length, absolutely no connection.    
Besides the right orientations, with high qualified and experienced human resources, DAPHACO invests advanced equipment and technology that has contributed to the outstanding development of DAPHACO. DAPHACO's factory with is more than 80% of European technology machines such as Niehoff (Germany), SAMP (Italy), SETIC (France), DUNST and CEECO (Austria) … and developed countries in the region such as PIONEER, YASIH (Taiwan) … Production capacity is  30,000 tons / year meet the demand of market.
DAPHACO Power Cable products are manufactured and tested in compliance with the National standards TCVN, International standards IEC, BS EN, JIS, AS / NZS, UL … with ISO Quality management system 9001 always stable and high quality products. Over 20 years of development, the brands DAPHACO and LION have been trusted by consumers and become the leading brand in the field of building cables in Vietnam.
     Products of Daphaco Electric Cable Corporation
Building wire.
Low voltage power cables.
Flame retardant, Fire resistant cables.
Service entrance cables.
Control cables.
Welding cables.
Aluminium electric cables.
Bare conductor.
……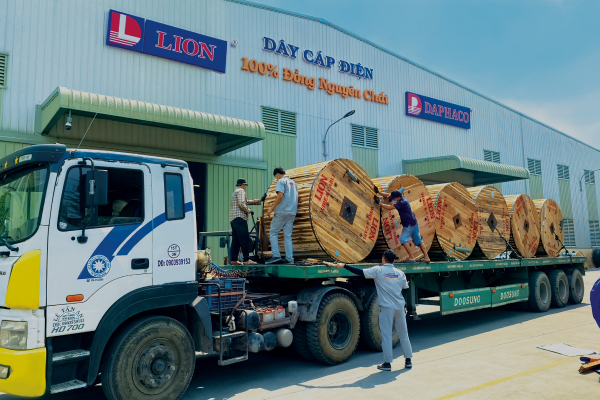 CORE VALUES
Establishing a partnership
Establishing the DA PHAT Manufacturing and Trading Company Limited
Expanding the distribution system
Establishing a branch in Da Nang
Conversion to "DAPHACO ELECTRIC CABLE CORPORATION"
Developing a new product line: Solar energy cables
Signing a cooperation agreement with Panasonic
Becoming an official distributor of Panasonic LED lighting equipment